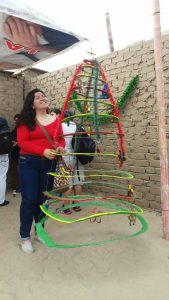 That night I came home happy, with a warm heart and anxious enthusiasm. It had been a long time since I had clung so closely to faith, hope, and commitment.
With impatient time in my disorganised life, my fever, my hoarse voice and I agreed to celebrate at Sayariy's Christmas meeting. We brought together a hasty but organized team. Can you understand this? People, organised to help! Eagerness, like music, prevailed en forte.
A healing home received us. I call it that because many wounds were healed that afternoon. Suddenly I was there breathing in smiles, peace and much desire for equity in the real fulfillment of the rights that this system resists to execute.
Girls and boys are powerful reasons to exist and be. I'm not going to try to construct hypotheses of why it happens, I prefer to hold on to their happiness, their looks and the contract of resurgence that they signed even before learning to pick up their pencils.
Then Lourdes announced to them that "You'll have your summer workshops!". We all jumped for joy. Yes, including me. Hence, she wrote "the happiest girl in the afternoon." I could only hold her tight and ask her to never die, and although she replied that "it is the law of life," I insisted that people like her never die. (Read this and understand: don't you dare leave!)
But, the promise of social change is impossible to fulfill since the limited social gathering. That must be left to the oppressors. The Pharisee photo does not endow our childhood with knowledge. It does not empower them. Here the firm commitment is urgent. Do you want changes? Generate them.
My summer 2017 already has a name: "The voice of my rights". Where justice does not come, state budgets do not arrive and promises return only to demand a vote. There where only information is the true "Saviour" and must be built from childhood. There, in "Nuevo Libertadores".
Speech/expression program facilitator
El Porvenir – Trujillo
10-12-2016